Welcome to the Carpet Collector website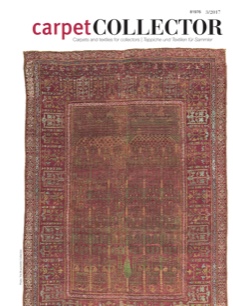 Carpet Collector is a magazine devoted exclusively to antique rugs, carpets and textile art.

Carpet Collector is a bilingual publication (English/German) that features articles and interviews about collecting rugs, carpets and textiles, announcements and reports from important auctions and events, as well as historical discourses. Each issue includes a special section highlighting unique collector's pieces from renowned rug and carpet galleries. Guest authors contribute articles on special topics to cover a broad range of expertise related to the world of textile art.

To get a better impression of Carpet Collector, please feel free to browse through back issues in the archive section of this website or request a free sample copy.
Carpet Collector study tour to Transylvania
Spend ten days discovering the Black Church, Ottoman rugs and carpets, post-Byzantine textiles, Romanian folk kelims and Tuducs: the specialist magazine Carpet Collector has partnered with author Stefano Ionescu ("Antique Ottoman Rugs in Transylvania") to organise a study tour to Transylvania and Bukovina. Every true rug enthusiast should be sure to clear their calendar from 5 to 14 June 2015. For further information please contact Stefano Ionescu:
stefano_ionescu@yahoo.it
.