CarpetCollector - Subscription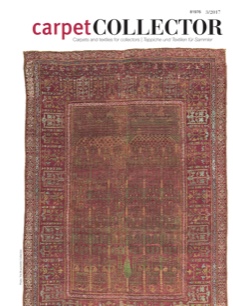 This new magazine is aimed at all fans of this fascinating topic. The editorial spectrum is correspondingly broad: auction reports, book presentations, reports from collectors meetings, reports about the important rug collections of major museums, presentations of exceptional collectors rugs and essays by international rug experts. CarpetCollector is devoted exclusively to antique rugs and textiles.
---
You can order an CarpetCollector Subscription via Paypal.
4 Issues/ Year, 129 $ incl. postage.
USA and Canada only!
4 Issues/ Year, 109 EUR incl. postage.
not in the USA and Canada!
You can order a free sample Issue via our
sales department